What is a Class 1 license?
A Class 1 license is the highest attainable driver's license in Saskatchewan. The primary benefit of a Class 1 license is the ability to drive semi-trucks with trailers, trucks with trailers, or any vehicles in tow with the combined gross weight of the towed unit(s) of over 4,600kg.
A Class 1 license with an Air Brake (A) Endorsement allows you to drive every other vehicle class, including: Classes 5, 4, 3, and 2; Uber, Lyft, and taxis; and city buses, garbage trucks, and cement mixers.
The only vehicles you can't drive with this license are school buses and motorcycles.
The Air Brake Endorsement included in the Mandatory Entry-Level Training (MELT) through Hopfe Training Centre is a key addition, as most Class 1 vehicles are equipped with an air brake system.
How do I get my Class 1 License?
Before you can get your Class 1 license, you must first get a learner's license from SGI. A Class 1 learner's license will expire after two years.
To get your learner's license, you must also meet the minimum age and driver's license requirements, have a clean bill of health, and pass the written road knowledge test.
Follow these easy steps and you'll be ready to drive in no time!
Class 1 MELT Program
Price: $11,550
Course Length: Minimum of 121.5 hours
Cost includes taxes, one set of SGI testing fees.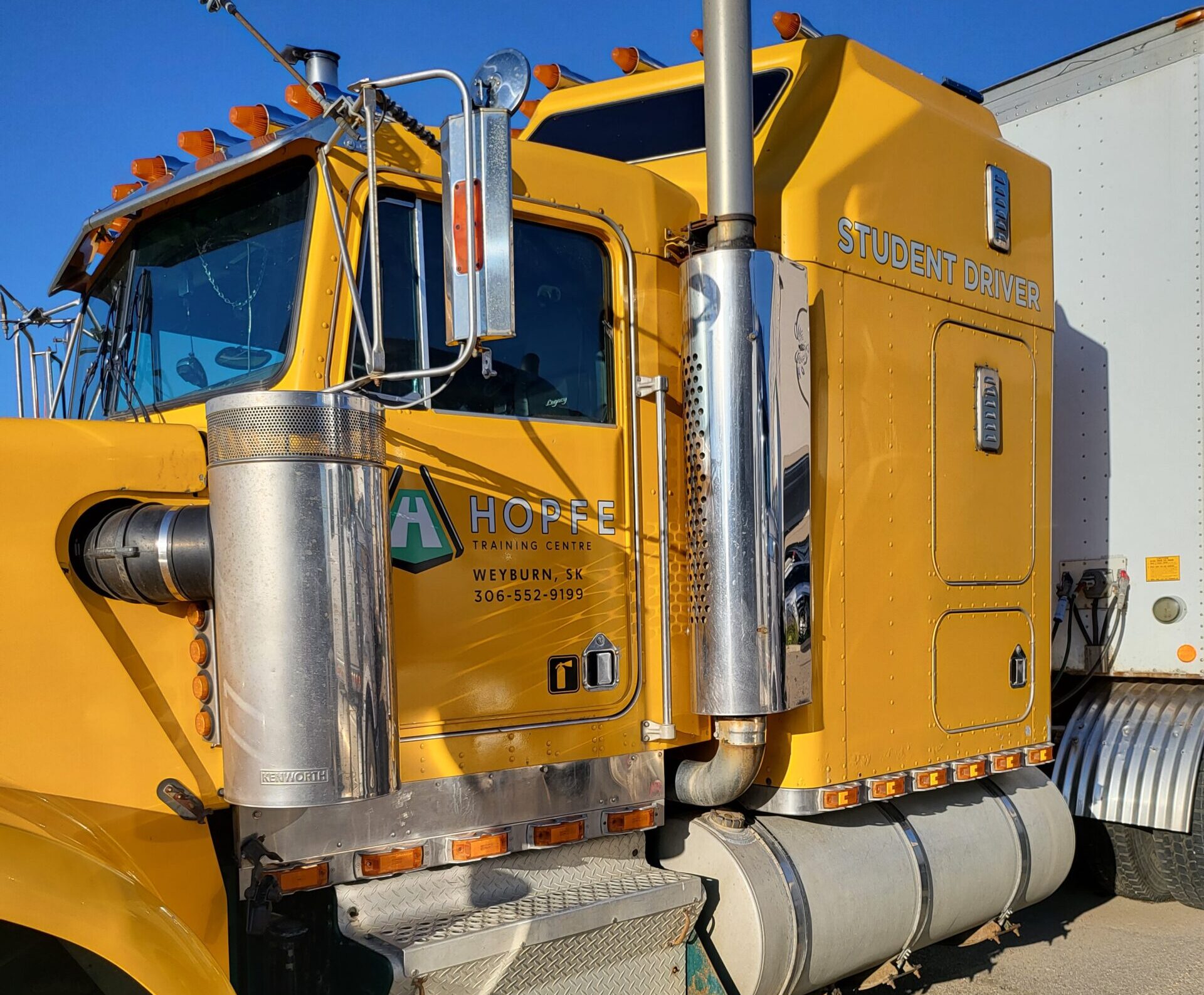 Steps to achieve your goal
Step One: The Minimum
To get your Class 1 license in Saskatchewan, you must meet the following minimum requirements:
You must be at least 18 years of age
You must hold a Saskatchewan Class 5 license and be out of the Graduated License Driving program (no Novice 1 or Novice 2 designations)
That's it! Good to go? Next step!
Step Two: SGI Medical
Before you can proceed any further, you must complete and pass an SGI medical. This is to ensure the safety of yourself and others on the road.
You can either take a copy of the SGI Commercial Driver's License Medical Report with you to the doctor, or simply let them know why you're there.
You must pay for this medical exam. Once the exam is complete, your doctor will submit their report to SGI; this usually takes a few days, so be prepared to wait.
The intent of this exam is to identify any health concerns that could cause issues on the road. The most common possibilities here are vision and hearing loss, but other potential flags are seizures, insulin-dependent diabetic conditions, head injuries, blackouts, dizziness or fainting, or physical disabilities. This doesn't mean that you can't get your Class 1 license if you have these conditions, they just have to ensure you can still safely drive a large rig. 
Ready to learn? Excellent. 
Step Three: Written Exams
You can book your written exams in two ways:
1. Call SGI to book an appointment at any SGI location – 1 (800) 667-8015
2. Visit SGI in Regina or Saskatoon for walk-in appointments between 8:00am and 4:00pm, Monday to Saturday.
Before scheduling your exams, be familiar with the following books:
– Saskatchewan Driver's Handbook
– Commercial Driver's Handbook; and
– Air Brake Handbook.
Make sure to study these thoroughly. We always recommend going through and answering all the questions at the end of each module. It's important to note here that, because you are in the process of obtaining your Class 1 license, which gives you the ability to drive a bus or a taxi, you need to study those sections too.
In order to obtain your learner's license and be ready for MELT, you must obtain a minimum of 80% on the following tests. Each attempt costs $15, no matter how many or few of the tests you have to write or re-write. Try to make note of any questions that you may be struggling with to review them before your next rewrite.
– Signs Test (30 Questions)
– Basic Class 5 Test (20 Questions)
– Class 4 Test (10 Questions)
– Class 3 Test (10 Questions)
– Class 2 Test (10 Questions)
– Class 1 Test (10 Questions)
– Air Brake Endorsement (18 Questions)
If you've passed all the tests, congratulations! You now have your Class 1 Learners License! You are now ready for your MELT course with Hopfe Training Centre.
Step Four: M.E.L.T.
Mandatory Entry Level Training (MELT) came into effect March 15, 2019, in Saskatchewan. You are now required to attend the SGI minimum 121.5-hour course to obtain your Class 1 license.
Hopfe Training Centre makes this happen in a four-week long course, so that you can take as little time off as possible in order to obtain your license and take the next step in your career!
The MELT Course is broken into four broad categories: Classroom, theory, driving, and reverse maneuvers.
You can find more detailed information in our courses section.
Our instructors are SGI certified. We constantly undergo specialized training to ensure that we're able to teach you the best possible practices regarding Class 1 driving and how to make a positive impact in our field. We're dedicated to making sure you know as much as you can before you head out onto the road yourself! We view ourselves as mentors more than teachers and we're always happy to provide assistance even after our students graduate from our program.
Don't quit now, you're almost there!
Step Five: The Finish Line
A.K.A. The Driving Test
There are two parts to the SGI Practical Exams: theory and practical.
Part One
The first practical exam with SGI tests your knowledge and understanding of the truck and how it operates. This consists of the pre-trip, the air brake practical exam, and demonstrating how to properly connect and disconnect a truck and trailer.
SGI's practical exams are designed to make sure you're comfortable and confident behind the wheel. Your job here is to show SGI what you've learned and that you know how to do it properly and safely.
Part Two
The second practical exam with SGI tests your driving – this is your chance to show off (safely, of course)! You will demonstrate how to drive defensively and how to properly do any backups required. There's no need to overthink this part of the course – the easiest way to put it is: don't think of it like a test. You know what to do – prove it!
One hour of full concentration later, here we are! You have your license! You're now ready to start your new career on the road – congrats!
What is a Class 3 license?
A Class 3 license allows you to drive heavy industrial trucks, including: dump trucks, cement mixers, industrial garbage trucks, and large straight-body trucks. These vehicles are primarily used locally in various areas of business, such as construction, utilities, local deliveries, farms, and the oil patch.
A Class 3 license works at its full potential when paired with the Air Brake (A) Endorsement as you'll be able to drive a wider variety of vehicles.
How do I get my Class 3 License?
There are a few ways to get your Class 3 license depending on your experience.
See our courses page for more detailed information.
35-hour Course
Price: $3,885
Description: This is a generalized course and is best for those who have never driven a Class 3 unit.
20-hour Course
Price: $2,310
Description: This course is designed for those who have driven a Class 3 unit. It puts emphasis on the trip inspection and air brake test. These hours are customizable depending on what training you need.
What do I need to know?
It's important to book your courses early so we can fit you in as soon as possible.
The age and driving experience requirements for Class 3 are the same as Class 1. Class 3 requires many of the same steps as Class 1.
Before you can begin your driver training, you must:
Book and complete a medical exam through SGI.
Complete the written exams listed at SGI.
Before going for your tests, read through the Saskatchewan Driver's Handbook, the Commercial Driver's Handbook, and the Air Brake Handbook. Go through each module and answer the questions at the end of each chapter. Each attempt at SGI costs you $15, no matter how many tests you have to write.
The Class 3 tests require you to complete the Class 4 test as well. We recommend you study the Class 4 section of the Professional Driver's Handbook.
The written tests include:
Signs Test (30 questions)
Basic Class 5 Test (20 questions)
Class 4 Test (10 questions)
Class 3 Test (10 Questions)
The Driving Test
There are two parts to the driving test: the practical portion and the driving portion.
The practical portion of the exam covers the practical air brake test and trip inspection.
During the driving portion, you will ride with the instructor for two hours. You will be tested on safe operational procedures, basic maneuvers, and the reverse maneuver. New drivers will be tested on the IPDE method of driving and general safety practices. For experienced drivers, this test will focus on correcting bad habits and pointing out those little things you didn't know (or remember) you needed to do.
NOTE: Any previous Class 3 experience does not remove the requirement of Mandatory Entry Level Training (MELT) necessary to receive a Class 1 license.